We are the Positronic Panthers, a robotics team based in Strath Haven High School in Wallingford, Pennsylvania. The team is made up of about fifty students between the ages of fourteen and eighteen who participate dedicate themselves in the First Robotics Competition. After receiving a new competition objective, we immediately began the process of creating our robot. The members of Team 486 bring diverse skills and ideas to the brainstorming process, which starts at the beginning of each build season. Students dedicate hours of their time working is separate divisions over six weeks. 
Besides working on the robot, our team is also involved in several community outreach programs, such as working with the middle and elementary school students and participating in events such as Relay for Life and local fairs.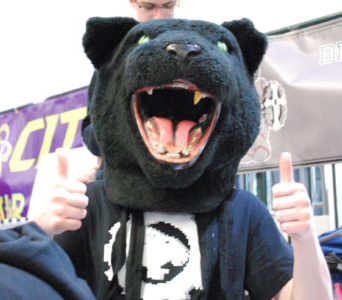 Philosophy

:
The philosophy of Strath Haven High School's Team 486, The Positronic Panthers, has always been simple: we believe in the principles and the values of FIRST, an organization that inspires students to pursue science and technology through robotics competitions.  Team 486 is constantly striving to uphold the following fundamental principles.  First, it is very important that the students are the ones who design and build the competition robot so they are able to truly understand the importance of teamwork when it comes to completing tasks in the real world.  Next, all students are expected to treat each other with respect and uphold gracious professionalism.  The students are expected to extend these values beyond their team and into their everyday life and interaction with the student body and opponents.  At Strath Haven High School we believe that learning new skills, while upholding our principles, is the true meaning of FIRST and the philosophy that all teams should strive to meet.
Mission Statement:
We, Team 486, believe in cultivating and spreading the FIRST philosophy:


Our team fosters the traits of education–application of skills, discovery, persistence, and teamwork–in our community.




In order to achieve this vision we will:
Work efficiently and effectively


Create a strong base of mentor support


Develop an enduring policy handbook


Involve all members of the team


Learn and have fun